The
roles
and
requirements
of
school
principal
versus
ECE
center
director:
similarities,
differences,
and
next
steps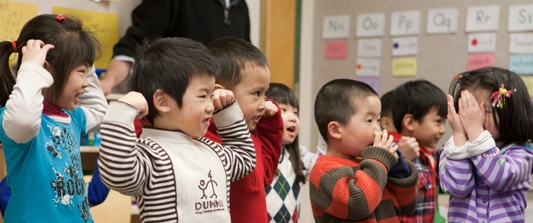 By Amy Friedlander
The K-12 education system requires principal certification.  In Pennsylvania, early childhood education (ECE) licensing requirements specify the educational attainment of directors.  Nearly a decade ago the Keystone STARS quality rating and improvement system created a Pennsylvania Director Credential.  Offered at undergraduate and graduate levels, this three-course, 9 credit credential is currently being revamped.  This blog raises questions and offers suggestions regarding how that credential might be modified in light of 1) the differences and similarities of the principal and ECE director roles; 2) the educational requirements of the roles; and, 3) the educational requirements of the teachers that they lead.
Like schools, ECE centers vary in terms of legal status (for-profit vs. non-profit, charter, public, private or parochial), structure (single vs. multi-site), ages of students taught, and philosophy (Montessori, distance learning, project based).  These variances trigger differences in job functions and confound the notion of a single set of skills, education, and experience as ideal preparation for the position of ECE director.  For instance, an ECE director that works for a for-profit company that operates several ECE centers may benefit from centralized supports and infrastructure.  An owner/director of a stand-alone for-profit ECE center is responsible for all the leadership, management, and administration – including teacher coaching and supervision, marketing, technology, human resources, facilities and security, payroll, and finance. 
Both ECE directors and principals function as the content experts – responsible for developmentally appropriate learning.  This entails hiring, supervising, evaluating and coaching teachers, ensuring the availability of learning materials and resources such as curricula, and accountability for learning assessment results.  Because most principals and directors pursue these roles after years of classroom teaching, they require explicit training in areas such as staff supervision, teacher observation and coaching, and curriculum selection.  The two roles also share a holistic approach to student learning – one that includes consideration of family and behavioral and physical health of the student, and one that promotes academic/cognitive learning as well as social-emotional intelligence.
Director and Principal: Similarities

Director and Principal: Differences

Organizational/business/site leader

Teacher-coach

Teacher supervisor

Parent liaison

Responsible for a budget

Responsible for Facilities (maintenance, security, I/T)

Responsible for student assessment process and results

Focus on high student attendance and retention

Focus on developmentally appropriate student learning

Focus on student and staff safety

Focus on social and emotional well being of students, families, and teachers

Education service includes physical activity and food service

Educational service must meet the needs of diverse learners, students with physical and mental disabilities, English Language Learners, and students from all ethnic, racial, and socio-economic backgrounds

Teacher-student ratio must be maintained; teacher absences, vacancies, and separations are problematic

 

 

 

 

 

 

 

 

Union – principals typically have a unionized staff; ECE directors typically do not

Scale – principals typically have a large number of students and teachers for whom they are responsible

Availability of centralized professional support for human resources, facilities management and security, information technology, menu planning and food preparation, timekeeping and payroll, and fiscal; these resources are typically available to principals and not available to ECE directors

Need to pay taxes/file IRS Form 990 – principals are generally not responsible for assuring that taxes are paid and tax forms are filed; many ECE directors need to do so

Landlord relationship – principals generally operate schools in buildings that are owned by the District, while ECE directors typically lease space from local landlords

Board of Directors – principals do not typically deal with a board of directors; ECE directors that work for a nonprofit organization may need to do so

Number of funding sources – principals typically deal with one funding source; ECE directors juggle multiple funding sources

Number of eligibility metrics for students – principals typically deal with one set of eligibility factors for student admission: geography and age; ECE directors deal with eligibility requirements specific to each funding source that may include: geography, age, family income, work status, and work hours

Standardization of service – principals generally offer one education service and students attend school for the same hours each day for the same five days per week for the same 10 months per year; ECE directors generally offer a range of education services that may include part- and full-day, school year and full year, and summer camp

Student recruitment – principals generally do not need to promote and market their schools in order to enroll students; ECE directors need to promote and market their programs

Accreditation/Licensure – principals typically do not have to prepare for licensing or accreditation visits nor concern themselves with detailed compliance issues
The roles have much in common, albeit with several core differences.  However, the credentials, education requirements, and compensation differ greatly. 
Requirement

Principal

Comment

ECE Director

Comment

Education
Pre-requisites

Bachelor Degree

 

Associate Degree

An associate degree from an accredited college or university, including 30 credit hours in early childhood education, child development, special education, elementary education or the human services field and 4 years of experience with children

Credential
Pre-requisites

Level II Teaching Certification

 

None

 

Specialized Education Program to become Credentialed

21-24 credit program certified by PDE

Typically includes courses, internship, and field experience

9 credit program certified by PA Key

Only available to those with a minimum of an Associate's Degree with 18 credits in Early Childhood Education; those with BA may choose to submit a portfolio rather than take the three courses; covers 71 competencies

Experience

3 years

With satisfactory assessments

Ranges from 1 to 5 years

Based on degree achieved and area of study

Testing

School Leaders Licensure Assessment

Qualifying score of 163

None

Submission of application (and portfolio, if applicable) to PA Key

Credential

Principal Administrative Certification

Required to be hired as a Principal in a public school in PA

Director Credential

Not required

Credentialing Body

Pennsylvania Department of Education

 

PA Key

A public/private organization that supports Pennsylvania's Office of Child Development and Early Learning
Principal certification programs include seven to eight courses, internships, and field experiences.  Sample course titles include:
- Differentiated Instruction in Inclusive Classrooms
- Introduction to Educational Administration
- The School Administrator
- School Law & Social Advocacy
- School Law & Politics
- School Finance & Facilities
- Functions of School Supervision
- School Leadership & Decision Making
- Instructional and Curriculum Leadership
- School & Community Partnerships and Relations
- Integration of Technology with School Instruction and Management
The current Director Credential program includes three courses.  Sample course titles include:
- Organization & Administration of Early Childhood Programs
- Leadership Seminar in Early Childhood Education
- Instructional Leadership
- The Business of Early Learning and School Age Programs
- Planning of Child Development Programs
- Communication Strategies for Effective Early Childhood Programs
It is counterintuitive that EC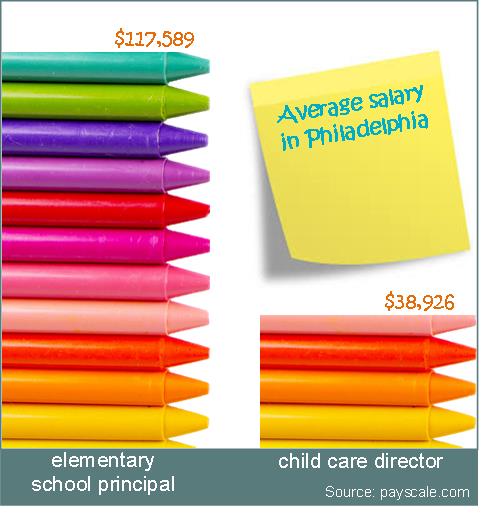 E directors, who lead, supervise and coach a team of teachers with fewer qualifications than teachers whom principals supervise and coach, would require less, and not more, specialized training and certification than principals.  Being a coach to teachers with less formal training and certification requires more skills than coaching teachers who are already well trained in pedagogy and content and have been certified as such. 
 Increasing ECE director degree and certification requirements to a level commensurate to those of the principal position will require compensation parity as well.
Suggested recommendations for changes to the Director's Credential, which must be made in alignment with other changes to the early childhood field, include:
- Implement education standards within ECE aligned with the Institute of Medicine (IOM) and National Research Council (NRC) recommendations included in Transforming the Workforce for Children Birth Through Age 8: A Unifying Foundation. This means that all teachers and directors would minimally possess bachelor degrees.
- Create pathways for the "specialized roles" that individuals play within early childhood learning settings.  For teachers, this might be an alternate teaching certification.  For directors, this might be the Director Credential.
- Modify the Director Credential so that it is only available for those with a bachelor degree.  This is supported by IOM and other recent research and reports indicating that bachelor degrees with specialized knowledge and competencies are a minimum requirement for those working with children birth through age 8.
---
AMY FRIEDLANDER served as the Director of the Early Childhood Education Workforce Transformation Initiative from May 2015 – April 2016. Previously, Amy led the Southeast Regional Key at PHMC and grew PHMC's ECE programs and services to include ChildWare and ECEhire.com. As a consultant, Amy now works for ECE providers, funders, advocates, and others, to conduct strategic planning, collect and analyze data, develop and implement programs, write proposals, develop and deliver training, and manage a variety of complex projects. Amy can be reached at amy@amyfriedlander.com and her website is www.amyfriedlander.com