Celebrating
a
Community
of
Inclusion
event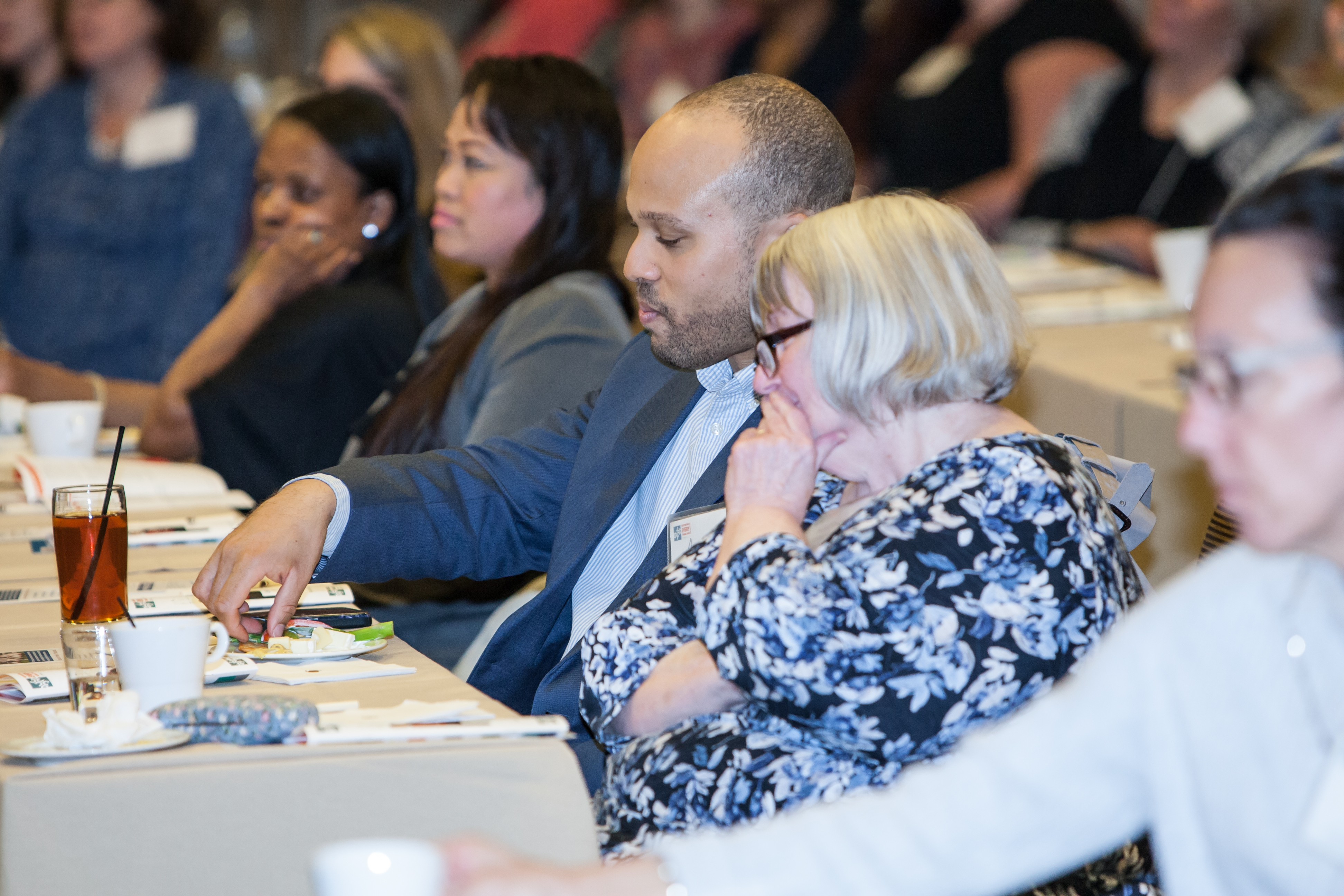 More than 100 people gathered in Center City Philadelphia on April 25, 2018 to recognize and celebrate inclusion for all children in early childhood settings.
We kicked off the evening with notable keynote speakers, Mayor Jim Kenney, and former DPW secretary, Estelle Richman. After the speakers, attendees participated in several panel discussions.
The Policymaker Panel, moderated by Donna Cooper, Executive Director of Public Citizens for Children and Youth, discussed what's on the policy horizon and how federal, state, and city governments support families and providers implement these policies. Panelists included Julie Beamon, PHLpreK Director, Mayor's Office of Education; Christy Kavulic, Ed.D., Associate Division Director, Office of Special Education Programs, US Department of Education; Maryanne Olley, Early Education Advisor II, Bureau of Early Learning Services, PA Office of Child Development and Early Learning; and Lisa Parker, Division Chief, Bureau of Early Intervention Services and Family Supports, PA Office of Child Development and Early Learning.
The Parent Panel, moderated by Denise Taylor Patterson, Director, Philadelphia Intellectual disAbility Services, Department of Behavioral Health and Intellectual disAbility Services, shared their very personal journeys finding inclusive ECE programs and services for their children. Panelists included Margie Austin, Executive Director, Change Agent for Inclusive Programs; Rachel Honore, Parent Navigator for AFEL, People's Emergency Center; Roxana Leon, Child Care Health Consultant, Southeast Regional Key, Public Health Management Corporation; and Marla Vega, Program Manager/Patient Navigator, Chronic Disease, Asthma and Smoking Cessation Programs, Health Promotion Council.
The ECE Program Panel, moderated by Johanna Morales, Education Manager, Philadelphia Head Start Partnership, Public Health Management Corporation, spoke about how they ensure all children have access and can participate in their programs. Panelists included Zaina Cahill, Early Childhood & Learning Lab Director, Children's Village; Mary Doughty, Program Coordinator, KenCrest Northeast; Merryl Gladstone, Co-Director, Children's Community School; and Marylou Haughney, Director of Children Services, SPIN.
The Resource Organization Panel, moderated by Marsha Gerdes, PhD, Senior Psychologist,
PolicyLab; Associate Director, Neonatal Follow-Up Programs, Children's Hospital of Philadelphia, talked about the supports they provide for families and providers, specifically related to finding or promoting appropriate inclusive child care programs and services
At the event, we also had the honor of recognizing 11 ECE programs for implementing excellent inclusion policies and practices in their program. We received over 90 nominations from parents, providers, coaches and support providers. Our staff conducted over 20 site visits to determine which programs should be recognized for their efforts. It was no easy task. The finalists demonstrated their philosophy that all children can learn. They show commitment, not only to the children they serve, but also to their families. They have equipment, materials and spaces that are accessible to all children. Their teachers embed instructional strategies and supports to meet each child's needs. And all staff take an active role in the collaboration of services to meet children and families where they are in order to provide the necessary supports for growth.
Congratulations to the following programs:
Finalists
•        Children's Community School
•        Children's Village
•        Grace Neighborhood Academy
•        KenCrest Northeast
•        Mercy Neighborhood Ministries
•        SPIN
•        The Caring Center
•        Westminster Mayfair Presbyterian Church Child Care Center
Honorable Mention:
•        Arch Street Preschool
•        Childspace West
•        Porter's Day Care and Educational Center
Thank you to our speakers, panelists and attendees for creating an inspirational and informative evening. Let's keep the conversation going!
Did you attend the event? Please take a few minutes to complete a short survey to help us shape our next steps.
---
We need your input!
The Early Childhood Action Collective at PHMC is launching a new initiative, Supporting EVERY Young Child for Success. The purpose of this initiative is to support ECE programs to provide access and full participation to diverse learners.  The multi-strategy initiative is guided by the following principles:
•        All young children belong.
•        All young children can learn.
•        Inclusion is a critical component of high-quality care.
•        Inclusion encompasses and addresses characteristics of all diverse learners-typical, social-emotional, IFSP/IEP, physical, race, culture, dual language learners, poverty, homelessness and more.
One strategy is to build a searchable resource bank of inclusion practices collected from research-/evidence-based literature and the ECE community.
You can help us build this interactive website and searchable resource bank by completing THIS 5-MINUTE SURVEY.
Thanks for helping!